Your Shopping Cart
Welcome

Guest

Your Cart Is Empty
Shop By Category
PROGRAMING TOOLS

CLONING TOOLS

Transponder Key

Key Case Rubber

Locksmith Tools

KEYDIY

REMOTE MASTER

Transponder Chip

House Key Blanks

Lock

CUTTING MACHINE

OTHER PRODUCT

security cameras
Xtool X100 PRO Auto Key Programmer X100+ Updated Version with EEPROM Adapter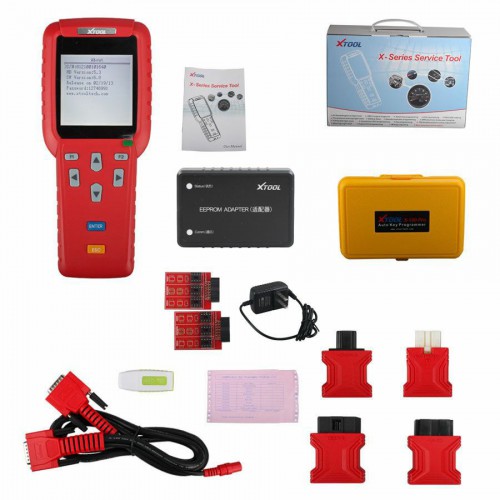 Xtool X100 PRO Auto Key Programmer X100+ Updated Version with EEPROM Adapter
Product Category : Auto Key Programmer
Item No. : KM2272
Product Model : NO.SK106
Product Weight : 2000 g
Retail Price :

US$199.00

Integral : 199
Buy 2+ for

US$198.00

each
Buy 3+ for

US$197.00

each
Buy 5+ for

US$196.00

each
Description:
Product Description
XTOOL X100 Pro Auto Key Programmer is a hand-held device for programming keys in immobilizer units on vehicles. This scan tool has a simple and robust design, to make your vehicle service experience much easier!

Xtool X100 PRO Auto Key Programmer X100+ Updated Version

Top 5 Reasons to Get X100 Pro Key Programmer:

1. Update Online on Official Website
2. Supported Various Vehicles Models
3. X-100 Pro Auto Key Programmer is a Handheld Device for Programming Keys in Immobilizer Units on Vehicles. This scan tool has a simple and robust design, to make your vehicle service experience much easier!
4. Support Add Toyota G Chip Via OBD
5. With Free EEPROM Adapter in Package
Notice:
1. Dealer Code: XT0240
2. Support Language: English Only

XTOOL X100 PRO Features:

1.New Keys Programming
2.Reads Keys from Immobilizer's Memory
3.New Immobilizer Programming
4.New ECU Programming
5.New Mechanical Key Number Programming
6.Vehicle Identification Number Programming
7.Reset ECM & Reset Immobilizer
8.Easy to operate by the guided menu programming
9.New remote controller programming
10.With full and strong database for the most important vehicle makes
11.Upgradeable via web-based download

XTOOL X100 Pro Car List:

Asia: Toyota, Lexus, Honda, Acura, Mazda, Nissan, Infiniti, Mitsubishi, Subaru, Suzuki, Kia, Hyundai, Daewoo, SSANGYONG, Proton, QNLotus etc
Europe: Audi, VW, Skoda, Seat, Porsche, Opel, Citroen, Peugeot, Jaguar, Landrover, Lincoln, Renault etc
America: GM, Cadillac, Buick, Chrysler, Ford etc
China: Great Wall, Chery, Brilliance-auto, Geely, LIFAN, HAFEI, CHANGAN, LANDWIND, BYD, Changan, Changfeng, Changhe, BYD, HNMazda, Huapu, JAC, LiuZhou, Lufeng, Roewe, SQYL, ZZMazda, ZZNissan etc

XTOOL X100 Pro Reviews:

Review 1:For what is has, it worked well for me. I was able to reset my ECM, program my keys and add a new remote. My model year Nissan did not have mileage adjustment. The problem with the product is documentation.They need to publish a real vehicle support list so people can see if it's what they need BEFORE spending over 200 bucks! The quality of the product was pretty solid, including the accessories. I've had no problems with the functionality of the unit for what functions are available.

Review 2:Work great. Can do immobilizer,ECU,ABS,ECM and so on. Also if the original TF card not wok,you can use any blank one to download softwares by yourself. It will work again.

Review 3:XTOOL X100 PRO is very good for immobilizer Kia / Hyundai and Nissan. IX35, New Santa Fe, Kia Picanto, Hyundai HB20, Sportage and New Sportage, Hyundai Veracruz, Kia Sorento, all I tested. Just not yet tested mileage with the X100 PRO yet.

Review 4:I have most Kia / Hyundai presence key, and the pin code at hand. IX35, New Santa Fe, Kia Picanto, Hyundai HB20, Sportage and New Sportage, Hyundai Veracruz, Kia Sorento, all I tested. But not tested Mileage with the X-100 yet.

Review 5:X100 pro works really well but depends on what cars, for Honda it is great to edit VIN etc, on Toyota not so great, for Nissan smart keys it is awesome! For ford it's terrible..

XTOOL X100 Pro Customer Feedbacks:

Audi A3 2006 add remote – ok
Chevrolet Cruze 2012 read pin code – ok 2min, add key – ok 10min
Chevrolet KALOS 2007 lost key, program key OK (you must have min 2 keys programmed. There is no list KALOS so I chose from the list AVEO)
Chrysler PT Cruiser 2008, read security code ok, erase keys ok, program new key ok in 2min
Chrysler 300c add key – not ok
Citroen DS3 program key -ok
Ford Focus 2006 add key -ok
Ford Transit 2009 add key – ok
Ford Focus 2014 smart key All keys lost success
Honda Accord 2015 add smart key OK
Done few Honda civic 46 and 48 id push start, suzuki Alto 2003 with X100 pro, no problem.
Mazda 5 2007 lost key – ok
Maruti Suzuki Alto 2011, erase all key ok, program new key ok
Nissan Frontier 2014 All Keys lost OBD program key OK.
No 20 digit pin. I get pin from auto search. in device. x100pro gives you pin.
Peugeot 408 2014 program key with pin code – OK
Seat Ibiza add remote – ok
Skoda Octavia 2007 read pin code OK
VW Polo 2005 read pin code OK
VW Passat B6 2007 add remote OK

XTOOL X100 Pro FAQs:

Q1:Will it work on my 2010 Honda Ridgeline?
A1:Sorry,can't do

Q2:Will it program an extra key chip for my 2001 Honda Civic
A2:yes.it support

Q3:Will this program a key fob for 2014 Dodge Durango push start?
A3:can do your car. if your original has push start function,then it will program a same key with that function.

Q4:Will this program a transponder key for a 2005 ford mustang ?
A4:Yes. support

Q5:Will the Xtool100 P work for 2007 chrysler pt cruiser?
A5:Yes,it will

Xtool X100 Specification:
| | | |
| --- | --- | --- |
| Operating System: | | Android 4.4.4 |
| Memory: | | 2GB |
| CPU: | | ARM7 |
| Display: | | Backlit, 160 x 160 pixel mono-color screen with contrast adjustment |
| Power Voltage: | | DC 12V |
| External Power: | | 8~18 Volts via DLC |
| Operating Temperature: | | -20 to 50℃(-4 to 126℉) |
| Humidity: | | <90% |
| Dimension: | | 19.2cm(L) *9.3cm(W) *2.9cm(H) |
X100 Pro Key Programmer Packing List:
1. X100 Pro Main Unit
2. ObdII-16 Connector
3. Honda-3 Connector
4. Hyundai/Kia-10 Connector
5. Kia-20 Connector
6. Main Cable
7. TF Card
8. TF Card Reader
9. EEPROM Adapter (Newly Add)

If you have any problem, please do not hesitate to contact us.
Shipment Note:
If your package shipped by Express Delivery, please give us a valid delivery phone number, and also a full and accurate shipping address.


[P199Y200114J]
Other Products